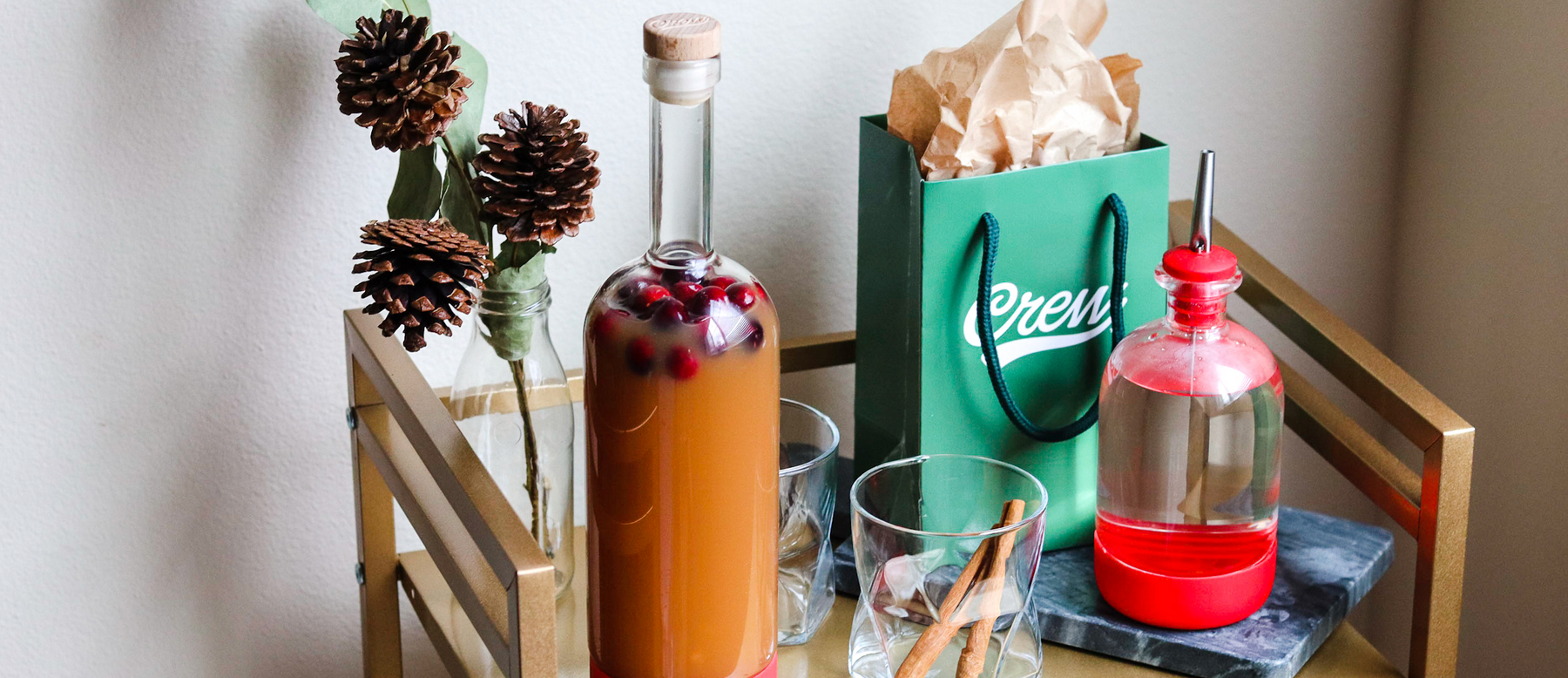 Essential Bar Tools for your Holiday Home Bar
There's nothing more festive than a signature cocktail at a party. Tailoring your drinks to your guests' preferences and the food you'll be serving can take a holiday gathering to the next level. However, planning ahead is key, as you'll also want time to mingle. Having the right bar tools definitely makes things easier. And, if you plan to gather for the holidays, why not get started now? Here are the essential barware for your holiday bash (large or small) every home bartender needs.
Bar tools for making drinks
Cocktail Shakers
There are a few options for shakers, but not all shaker sets are created equal. I love the versatility of a simple, weighted set like this one from A Bar Above. I use one for squeezing fresh juices into, one for ice, and another for my cocktail ingredients. They form a great seal, keeping your kitchen or bar area clean. Your hands can get pretty cold, but that also helps me know when proper dilution has occurred. I own several Boston shaker sets, and they are not all the same. Some are hard to get apart once you've made a drink, so look for ones with good ratings or try them out in a local bar supply store.
If you're looking for something less basic, you might enjoy the Elevated Craft Cocktail Shaker. It's insulated (so, no cold hands) and portable (it has a built in jigger and strainer). And if you're rushing around preparing for a party, this is less likely to get tipped over and make a mess. It screws shut and keeps things cold. And with the ability to hold 750mL, you can have a batch of old fashioneds prepped and ready for when your guests walk in.
Jiggers 
If you want to make great cocktails, you need to measure. Even highly skilled bartenders measure out their ingredients. A good jigger is a bar tool that will help you keep your drinks consistent and tasting like you want them to. I've long been obsessed with this angled jigger from OXO. It's easy to use and has all the standard measurements. I also like using a Japanese jigger, like this one. A third option is a bell jigger. They differ only in the shape of the two measuring sides, one side holds 2 ounces and the other holds one ounce. They both have measurement markings on the inside but are a bit more faint.
If you're making a batch of cocktails, "Crafty" Crew Bottles are perfect for the job. They have measurements printed on the bottle, so it's easy to scale up any standard recipe.
Juicers
Fresh juice is critical to quality cocktails. I've witnessed friends squeezing limes by hand, but if you're entertaining, I think you need a juicer in your bar tool collection. This lemon juicer works well for both lemons and limes. Chef'n also makes one for oranges, that I use for grapefruits as well. The best thing about these juicers is how well-made and sturdy they are. For party prep, you might prefer something that takes less effort and makes more juice. This electric juicer makes 10+ gallons of juice in an hour and this manual juice press puts 2000 pound of pressure with minimal effort on your part. Both of those juicers can be purchased at a restaurant supply store.
Strainers
It doesn't matter if your cocktail is shaken or stirred, you're going to need a good strainer, or two. Every bartender needs a Hawthorne strainer, the one with the coil and a spot for your finger. A fine mesh strainer comes in handy for egg white cocktails and straining out citrus pulp or muddled berry seeds. On the prep side, when you're juicing a watermelon or pineapple (after blending), you can use a larger mesh strainer or a Superbag. The latter allows you to strain a liquid quickly with maximum yield.
Bar Spoon
I love a good mixing spoon and this set from A Bar Above is awesome. Bar spoons are generally the same - differing mostly in the handle, length, and size of the spoon. Some have a little fork on the end to stab a cherry, and they all have handles that are either straight or twisted. Many recipes will call for 'a bar spoon' of an ingredient, although some spoons are bigger than others. And, if you're adding a carbonated beverage to a drink, you can pour it down a twisted spoon placed into your drink, which mixes it in without losing any fizz.
Cocktail Mixing Glass
When shopping for a great mixing glass, durability is key. While there are many beautiful mixing glasses out there, I like a basic one that can be put in the dishwasher. I love this heavy duty mixing glass by W&P design. It has a 20oz capacity, which means you can get a few bourbon old fashioneds mixed up at once.
Cocktail Serving Tools
Pour spouts
Whether you're the one making the drinks or letting your guests serve themselves, a couple of pour spouts will make a world of difference. The Pour Boy Pour Spouts from Crew fit perfectly into their bottles, but also fit into most liquor bottles as well. While the obvious advantage is that liquid pours faster, they also help stop things from dripping down the side of the bottle. They are easy to clean in a dishwasher and come in so many fun colors.
Drink Dispenser
For serving things like punches or large batched cocktails, a serving dispenser can really elevate your festivities. This one from Pottery Barn is functional and attractive. It can easily stand alone with a stack of
party cups and guests can serve themselves. For those of you looking for something that is more multipurpose, I really like this growler from Stanley that keeps drinks cold. It's large enough to make a good sized batch of cocktails, but also can be used to pick up a growler of beer later on. I use mine for parties, taking drinks to friend's houses, and for camping.
Home Bartender Storage
Hosting holiday parties can be hectic. While you might be making some individual drinks, having a self-serve station like a mojito or mimosa bar can take off some of the pressure. Making some simple
syrups ahead of time in the Shorty Bottles is my go-to plan. Helping your guests make up a quick and
personalized drink can be just as fun as a bartender handing you one. Plus, when the syrups are gone, cleaning up is a breeze because the bottoms screw off and they are dishwasher safe. No more bottle brushes needed! And, if you plan to infuse some spirits with fresh fruit or herbs (cranberry thyme vodka anyone?), you can easily remove the solids.
For those of you working in quantities larger than 750mL, you might want to add a Cambro bin or two to your barware collection. Not only are they great for storing citrus (after a Costco run), but you can also use them for storing large amounts of juice or pre-made cocktails.
And that wraps up the must-have barware for holiday entertaining! You can find all of the tools listed at your local bar supply shop, restaurant supply stores, or online. Wishing you a festive holiday season, however and with whomever you wish to celebrate with! If you're looking for a few recipe ideas to try, check out some of mine. Cheers!
About the Author:
Jenn Beard is the founder of Cocktails Away—a collection of adventures in pursuit of a great drink, a quality spirit, a unique ingredient, and the places they come from. Check out her blog for mouthwatering recipes and insider tips on DIY bartending and cocktail culture or travel to bars around the world at @cocktailsaway.