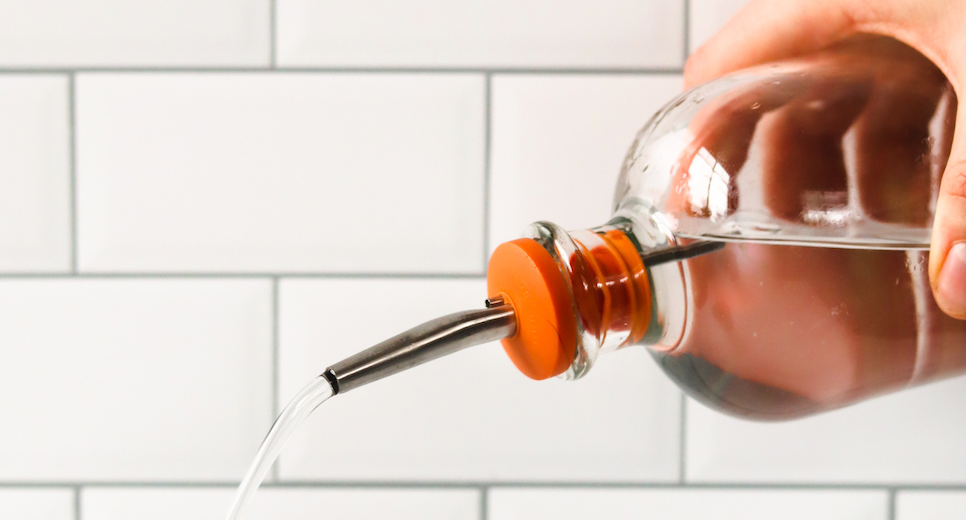 7 Easy Simple Syrup Recipes for your Home Bar
One of our four main tastes, sweetness is a critical component to a good drink, helping to balance acidity and bitterness. But adding sugar or honey to an iced drink is not that easy. A simple syrup maximizes the mixing potential of sweetness. A bar staple, simple syrup can be simply sugar water or a more flavorful foundation. Easily create your own syrup to enhance your handcrafted cocktails. Follow the guidance below to re-create one of the listed recipes or to create a more complex concoction of your own imagining.
The Simplest Simple Syrup
At its most basic, simple syrup is made by dissolving equal parts granulated sugar and water.
Pour 1 cup of white granulated sugar and 1 cup of water into a saucepan.
Place the pot over medium heat.
Stir until dissolved. The liquid will be completely clear instead of cloudy.
Immediately remove from heat.
This recipe produces about 1 1/2 cups of simple syrup.
More Complex Simple Syrup Variations
Beyond the basic recipe above, you can use one of several variations for making simple syrup.
Rich simple syrup: This variation uses the same process of making the syrup but instead uses two parts sugar to one part water (2:1). Some prefer to use rich simple syrup because of its thicker texture.
Brown sugar syrup: Swap the white sugar for brown sugar (light or dark) to make a rich, nearly caramel-like syrup. Turbinado sugar also could be substituted. This syrup works well in a cocktail like the Old Fashioned, but the darker color affects the color of some drinks.
Honey simple syrup: Using honey in cocktails can be tricky, since its thickness makes it difficult to dissolve. Make a simple syrup replacing sugar with honey and keep all the honey flavor.
Bar simple syrup: This syrup is so-called because bartenders can make the sweetener in minutes, without a stove. Combine equal parts of sugar and water in a bottle. Shake until the sugar dissolves completely. This method makes a much thinner, almost water-like syrup.
Fancy Flavored Simple Syrup
Easily bring more flavor to your simple syrup by adding additional ingredients. Lemon zest makes a citrus-flavored simple syrup. Spices such as whole cloves, star anise, and cinnamon are good ingredient choices, as are fresh ginger or herbs, like rosemary or mint. Slices of jalapeño peppers infused into simple syrup add an unexpected kick to a Paloma. You can use fresh fruits, like strawberries and pomegranates, also.
To make an infused simple syrup:
Combine an equal amount of sugar and water in a saucepan.
Heat over medium heat.
Stir until the liquid starts to simmer.
Add extra ingredients.
Allow the simple syrup to steep as it cools.
Strain the syrup to remove the additional ingredients. Leaving them in only shortens the shelf life of the syrup.
Rose Simple Syrup
For a splash of floral sweetness:
Steep 1/4 cup dried rose petals in 1 cup boiling water for 30 minutes.
Strain, lightly squeezing out excess water.
Add 1/4 teaspoon rose water and enough hot water to make up for the amount that evaporated while steeping.
Add 1 cup sugar.
Stir until dissolved.
1 cup granulated sugar
Gingerbread Simple Syrup
To add a concentration of holiday spices to cocktails or coffees:
Toast 1/4 cup minced ginger, 1/2 teaspoon nutmeg, 1/4 teaspoon cloves, 1/2 teaspoon of allspice, and 1 tablespoon ground cinnamon in a dry saucepan over medium-high heat for about three minutes, until aromatic.
Stir in 1 cup sugar and 1 cup water.
Bring nearly to a boil, then reduce heat to medium-low.
Simmer for 15 minutes.
Cool to room temperature.
Pour through a fine mesh strainer.
Storing Your Syrup
Pour the simple syrup in an airtight container, such as a conventional mason jar with lid or a high-performance bottle from Crew Home. Store in the fridge until you're ready to use. The basic syrup should be good to use for up to a month, but flavored syrups should be used within one or two weeks.
About the Author
Melissa Jenkins is a feelance writer and independent consultant with expertise in healthcare management, small business accounting and marketing, innovative technologies, night club operations, and emerging industries.
Melissa J is a freelance writer who writes about lifestyle and travel.