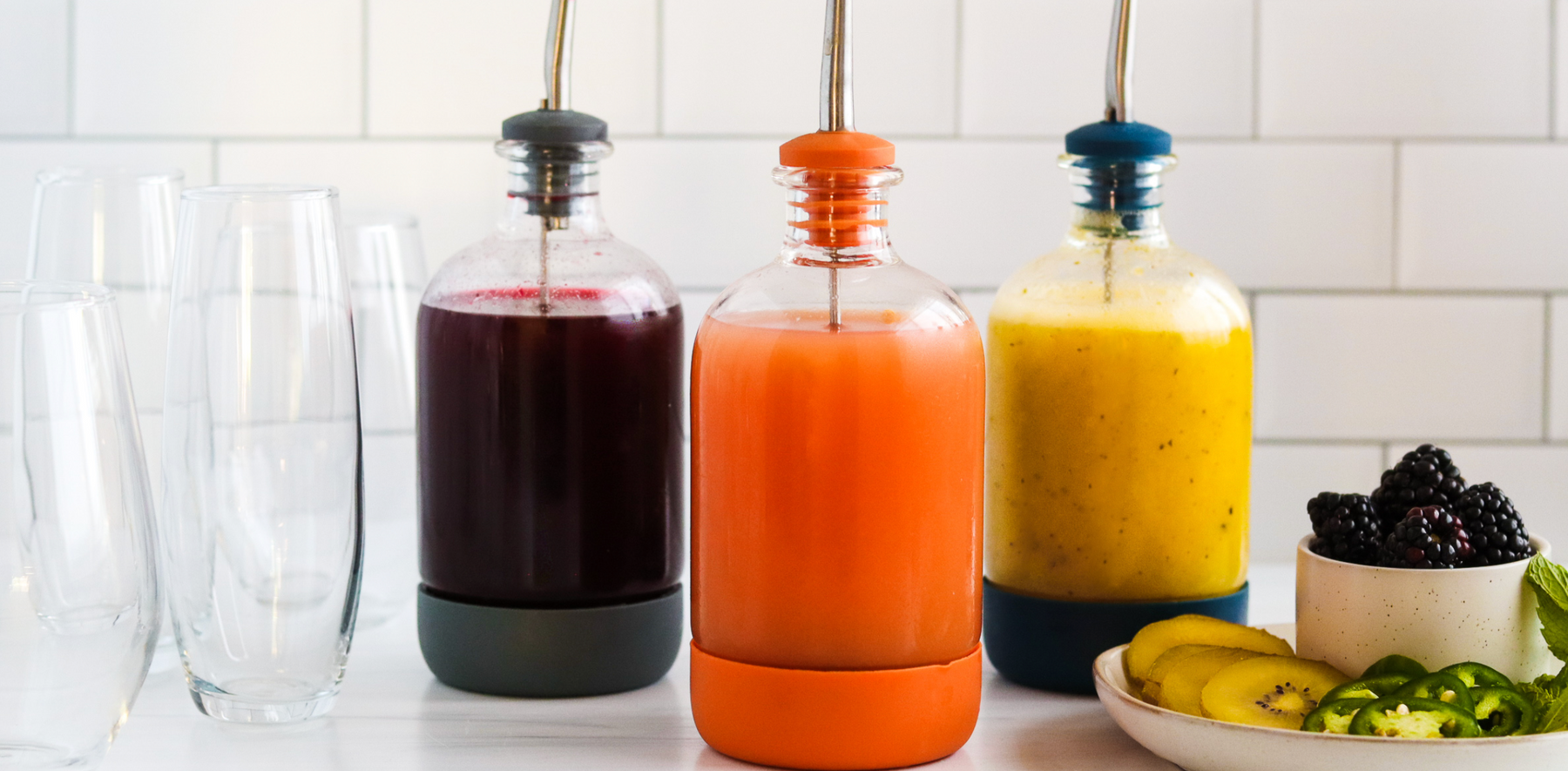 Boozy Brunch Cocktails Anyone Can Make at Home
"Do you want to go to brunch?" is a question most everyone looks forward to no matter who's asking - at least that's the case for us. Nothing beats sitting on a trendy rooftop patio, sippin' on some bloody mary's or mimosas accompanied by amazing food - ALL before two o'clock in the afternoon. However, due to the current world status, going out to brunch isn't all so popular at the moment. That's why we have taken it upon ourselves to create a one-of-a-kind at home brunch experience with ​Crew Bottles​. How did we do this? Two words -​brunch cocktails. From​ mimosas to screwdrivers and even coffee, we put a spin on classic brunch cocktails that'll take your at-home brunch game to the next level and leave your guests more than impressed.
Bubbles & Brunch
Brunch wouldn't be complete without a glass or two of mimosas by your side. We have yet to figure out why they're such a phenomenon in American brunch, but we are most definitely okay with it. The classic brunch cocktail is simple to whip up and is quite versatile. You can take just about any kind of fruit or fruit juice and turn it into a mimosa, so that's exactly what we did.
Bar Tools
If you're hosting brunch for a small to medium-sized group, we suggest using the Shorty Bottles due to their size and stylish design for mimosa bases to create the ultimate ​Mimosa Bar.​ People love being able to customize their food and beverages, so what better way to host brunch than to have mimosa flavor options?
Spicy Grapefruit Mimosa
There's just something about grapefruit that pairs well with many different spirits to create amazing cocktails. If you're not freshly squeezing or juicing your citrus, we suggest ​high quality juice​ to use in your cocktails. We infused our fresh grapefruit juice with sliced jalapeno to give your mimosa the perfect amount of heat - and we are oh so glad we did. This mimosa would pair well with a Mexican cuisine focused brunch, with options like ​Huevos Rancheros,​ Chorizo Scramble,​ Cevich​e​​, and of course, chips, guac, and salsa.
 Ingredients
1 small jalapeno - thinly sliced
Directions
Screw the base off of your ​Shorty Bottle​ and add your sliced jalapeno followed by the grapefruit juice. Put the cap on tightly and infuse for at least 4 hours or overnight.
When ready to serve, pour 1.5 oz into your glass and top with champagne.
Kiwi Mint Orange Mimosa
Kiwi mint? We know it might sound a little funny, but hear us out. Kiwi is the perfect fruit to add to cocktails whether that be a mimosa, margarita, or mojito. Kiwi is sweet and mildly tart, which pairs well with mint and orange for the ultimate burst of flavor. Just like the grapefruit mimosa, we recommend freshly squeezed orange juice or high-quality juice you can find in your local store or farmers market. This mimosa is a spin-off of the classic mimosa since we used orange juice, so it pairs well with classic brunch dishes like​ Eggs​ Benedict,​ Lox, and  ​​Avocado Toast.​
Ingredients 
1 ¾ cup fresh orange juice
Directions 
In a high-speed blender, combine your mint leaves, kiwi, and orange juice, then blend until smooth. Pour into your Shorty Bottle and infuse 4 hours or overnight.
When ready to serve, pour 1.5 oz into your glass and top with champagne. 
Blackberry Mint Shrub Mimosa
We are going to go ahead and say that shrubs should always be an option as a mimosa modifier. So what actually is a shrub? A shrub is created similarly to a ​simple syrup recipe ​and contains sugar, vinegar, and fruit. The result is an amazing concentrate that can be used in a wide variety of cocktails. For this specific recipe, we took fresh blackberries, mint, and lime to create a shrub that you'll be using from now on for at-home cocktails. Just like the Kiwi Mint Orange, this mimosa will pair well with classic, go-to brunch options.
Ingredients 
5 pints fresh blackberries
5 cup apple cider vinegar
Directions
In a medium saucepan, heat up the sugar and apple cider vinegar and stir until sugar is completely dissolved. Once the mixture is simmering, remove from heat and set aside.
In a container with a lid, pour in your blackberries, mint leaves, lime juice and zest, then muddle.
Pour your sugar/vinegar mixture over the muddled berries, cover, and refrigerate overnight.
Strain the mixture and pour into your Chubby Bottle.
To serve, pour ½ oz - 1 oz into your glass and top with champagne.
Fresh OJ
There was a time when orange juice was a luxury and not accessible to everyone. However, it has become one of the most common breakfast drinks in America. Orange juice and breakfast just work together, so it makes sense that orange juice and brunch make a perfect pairing. Most people think of mimosas when they think of brunch cocktails that contain orange juice, but we have something else on our mind - screwdrivers. In the mid-20th century, the screwdriver was one of the first vodka recipes, and oddly enough, was created by American oil workers. A screwdriver is simply orange juice and vodka - how much easier can it get? This drink is good as is, but we wanted to ramp it up and create one that is perfect for an at-home summer brunch.
Watermelon Peach Screwdriver
We promise that this flavor combination is as refreshing as it sounds. With watermelon and peaches being in season, summer is the perfect time to add these fruits into your cocktail recipes. What better way than doing so with brunch? The beloved ​Crew Bottle ​is the perfect tool for this recipe as it's easy to fill with the removable base, safe to store, looks amazing, and best yet - dishwasher safe. We'd call that a win all around. This slightly sweet cocktail will pair well with lighter brunch items such as ​Avocado Toast, Charcuterie​ Boards,​ and more.
 Ingredients
1 ripe peach - pitted and sliced
Directions
In a high-speed blender, blend your watermelon and peach until smooth.
Add the orange juice, peach nectar, vodka, and pulse until combined.
Pour into your ​Crew Bottle​ and place in the fridge for 2 hours to chill. Pour over ice to serve. 
Coffee & Brunch
Ahhh, coffee - the drink 99% of Americans need before they can fully operate for the rest of their day. Okay, that isn't a real stat, but we sure feel it. Coffee is a morning (and sometimes afternoon) staple in most peoples' lives, so it only makes sense that it is included in brunch. Most of the time coffee is just available to order with cream and sugar, but if we are hosting brunch at home… coffee cocktails it is! This recipe is quick to whip up in the classic ​Crew Bottle and is sure to impress your guests. Pair with a sweet brunch treat such as ​French Toast​and Coffee Cake.​
Spiced Irish Iced Coffee
 Ingredients
Directions
Screw off the base of your ​Crew Bottle​ and pour in your spiced rum, Irish cream, and simple syrup, then fill the rest of the bottle up with strong cold brew. Shake to mix and let chill in the fridge for 2 hours.
To serve, pour over ice, leaving a little room, and top with a little cream.
Sangria & Brunch
Brunch most definitely isn't complete without a little sangria, right?! Sangria is one of our favorite brunch cocktails because it is simple to whip up, versatile, and obviously tastes amazing. We wanted to make a batch of sangria that is perfect for a small group of 2-4 people and pairs well with all of your favorite brunch foods. If you are unable to use fresh pineapple juice, make sure to find some​high quality juice​at your local market. This specific recipe is slightly sweet, filled with notes of citrus, pineapple, and will taste great with items like ​Crostini,​ Bruschetta,​ Charcuterie​ Boards, and​ more.

Small Batch Pineapple Sangria
Ingredients
½ cup pure pineapple juice
Directions
Screw off the bottom of your ​Crew Bottle ​and add the pineapple, lime, and lemon. Follow it with the pineapple juice, rum, and finish with the white wine.
Seal, shake gently to combine, and place in the fridge for 4 hours or even overnight. The longer the better!
Bloody's & Brunch
A bloody mary is one of those cocktails that is a big hit or miss depending on the individual. Regardless, it's been around as a go-to brunch cocktail for ages. Instead of creating a recipe for this one ourselves, we wanted to share one by ​The Foodie Crush because she does an amazing job breaking it down for you! Just like mimosas, you can create a bloody mary bar with all the fixin's so guests can choose between toppings, seasonings, and bloody mix/vodka ratio. If you're not hosting a big group, you can make small batch bloody mary's using our ​Crew Bottle​. Bloody mary's are best paired with your classic brunch foods.
Pre-batched Bloody Mary Recipe
1 48-ounce can of tomato juice or about 6 cups
3 tablespoons prepared creamy hot horseradish
3 tablespoons worcestershire sauce
2 1/4 teaspoons celery salt 
Freshly ground black pepper
Pickle-infused vodka or regular vodka if you prefer
Assembling the Drinks 
Directions 
Mix the tomato juice, horseradish, worcestershire sauce, celery salt, garlic salt and black pepper in a large pitcher. Season with 10-15 shakes of Tabasco sauce, or to taste. Refrigerate until ready to serve.
To assemble drinks, mix the celery salt and kosher salt on a small plate. Dip the rim of your glass in a shallow amount of water, then dip into the salt mix and twist. Fill an 8-ounce glass to the top with ice. Add 2 ounces of ​pickle-infused vodka​ or regular vodka,m then top with bloody mary tomato mixture.
Garnish with limes, lemons, celery ribs, blue cheese stuffed olives, bacon strips, pepperoncinis, cooked shrimp, hot sauce, pickles, pickled asparagus or green beans, pickled beets, chunks of cheese, and anything your heart desires.