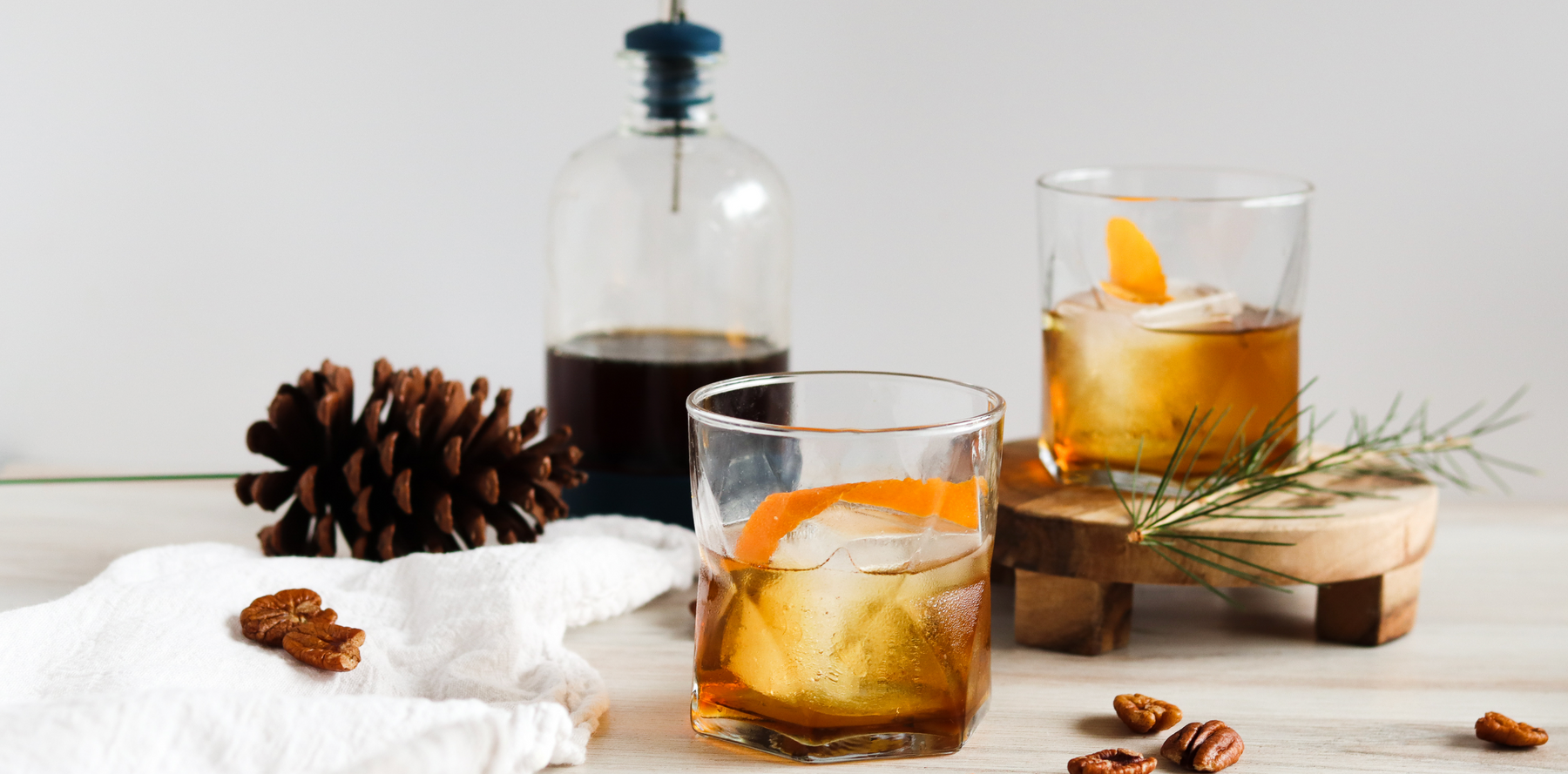 Awesomely Autumn Cocktail Recipes
What is it about fall that brings a warm, nostalgic feeling each year it comes around? Whatever it is, we love it because the leaves start to change colors, football season begins, seasonal produce, the weather gets cooler, and of course pumpkin spice and everything nice. One thing we look forward to is creating new cocktails that embody the fan-favorite flavors of the new season. From apple to cinnamon to cranberry, there are endless options for embarking upon holiday cocktails that are sure to give you that warm fuzzy feeling when you think about fall. Our Crew Bottles make the perfect fall cocktail companion, allowing you to pre-batch, infuse, and store liquids safely and with style. You can even switch out the colors to go along with any new fall decor - we'd say that's a win.
Spiced Apple Sour
If your go-to cocktail is a margarita but are looking for a new way to spice things up for fall, this is the perfect cocktail for you. This recipe incorporates all of the flavors from a classic margarita and fall-favorite apple cider, creating a drink that is sure to impress friends and family. If you're hosting for more than a few people, this recipe can be pre-batched in our Crew Bottle and is an easy pour. We suggest serving this alongside simple grazing boards with light options such as brie, goat cheese crackers, prosciutto, nuts, honey, and fall fruit. If you have any leftover apple cider, store it in our Shorty Bottle for future cocktails or use it to create a fall-inspired shrub for a bubbly brunch.
Ingredients - Makes 2 Cocktails
4 oz tequila
4 oz unfiltered apple cider
1 oz triple sec or pure orange juice
¼ tsp cinnamon
1 lime or lemon - juiced
Ice
 Directions 
Combine all ingredients in a cocktail shaker with ice and shake vigorously until chilled.
Strain and pour into serving glasses. 
Vegan Turmeric Eggnog
It's never too early for eggnog in our opinion! The combination of turmeric and classic eggnog spices creates a drink that stands out from traditional recipes. You can serve this as an adult beverage with spiced rum if you're hosting friends, or you can drink it as-is. One of our favorite ways to have this vegan eggnog for fall is in a latte! Nothing beats waking up and making your morning coffee finished with this eggnog that's filled with your favorite holiday spices. This recipe is best to pre-batch in our Crew Bottle and stored in the fridge until ready to use. Once you're done with it simply screw off the base and pop it in the dishwasher for an easy wash. Did we mention this recipe takes less than 10 minutes to make?
Ingredients
1 - 13 oz can coconut cream
5 cups unsweetened non-dairy milk - we used almond
¼ cup cashews
¼ - ½ cup pure cane sugar
1 tsp vanilla
½ tsp turmeric
½ tsp nutmeg
½ tsp cinnamon
⅛ tsp sea salt
 Directions
If you don't have a high-speed blender, soak your cashews in warm water for at least an hour.
In a blender combine your coconut cream, non-dairy milk, cashews, vanilla, turmeric, nutmeg, cinnamon, and sea Blend on high for 1-2 minutes until smooth and creamy.
Pour the mixture into a medium sized saucepan and place over medium
Add ¼ cup sugar and let the mixture heat until just before it starts to simmer and sugar is completely Taste and add another ¼ cup sugar if sweeter is desired.
Remove from heat, stir in vanilla, and let Transfer to your Crew Bottle and let chill in the fridge for 2 hours.
Maple Pecan Old Fashioned
Ahhh - nothing screams holidays like a twist on an old fashioned. The combination of whiskey, maple and pecan bitters creates an old fashioned experience you won't forget. Enjoy this cocktail as a nightcap with a good book by a fire or impress friends at your holiday party. Suggested pairings include a rich stew, a simple grazing board, or even as a dessert cocktail paired with a classic autumn favorite - pumpkin pie. Surplus syrup can be stored in our Shorty Bottle and reused to tailor your favorite cocktails to fit the season. If you're hosting for a larger group, this cocktail can also be pre-batched in the Crew Bottle for quick and easy serving.
Ingredients
3 oz rye whiskey
2 tsp pure maple syrup
2 dashes pecan bitters
1 dash angostura bitters
1 large ice cube
Orange peel to garnish
Directions
In your serving glass combine the whiskey, maple syrup, and bitters.
Add your large ice cube, stir, garnish, and enjoy!