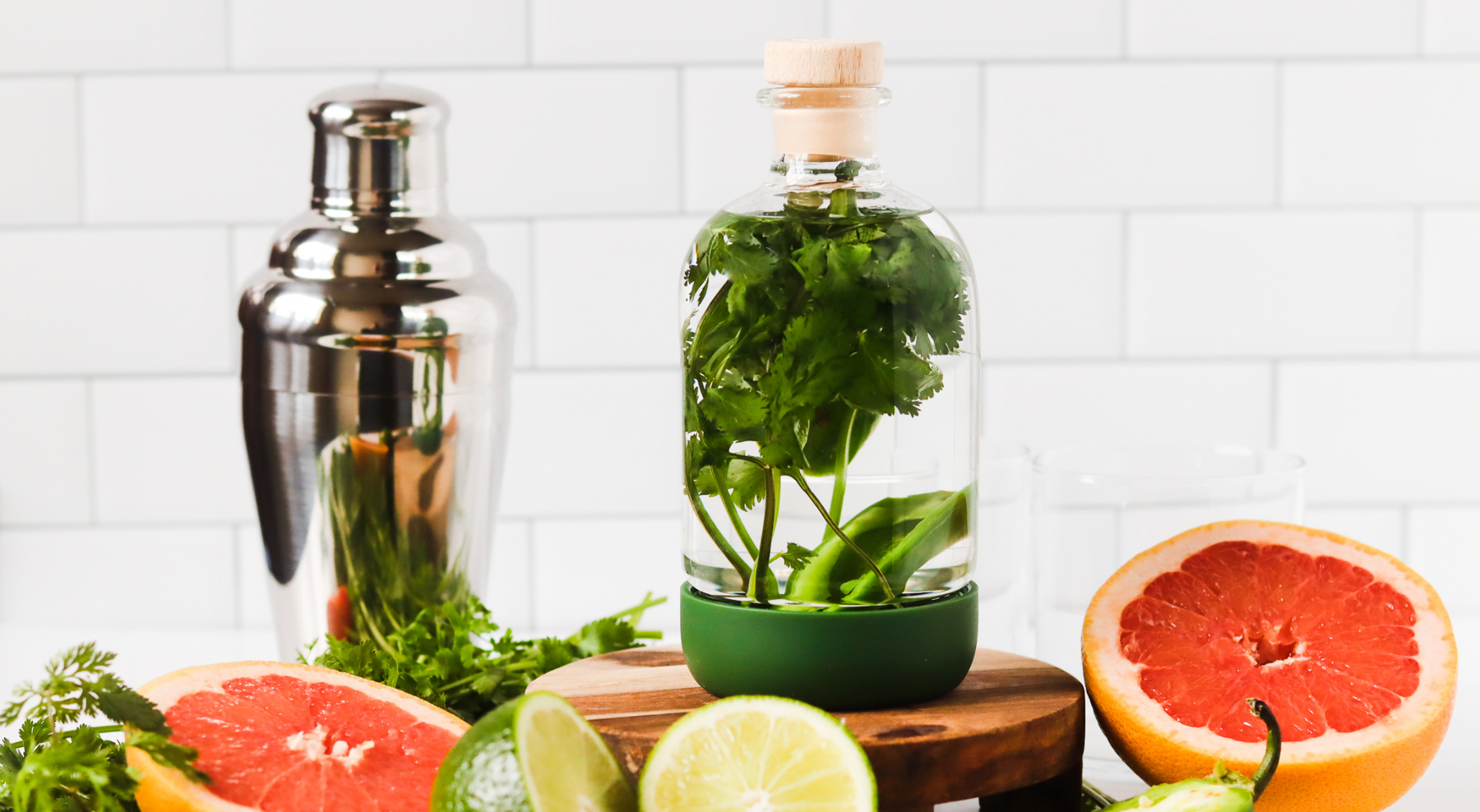 How to Make Great Cocktails at Home
There once was a time when I thought a frozen bucket of margarita mix was the best. No judgment if that's your go-to, but once you discover easy ways to make something even better, it's hard to go back. I also used to get overwhelmed with making cocktails that had more than two ingredients. If you enjoy delicious cocktails out at a cocktail bar, why not make them at home? While your house may lack the charm of an upscale bar, and you have to wait on yourself, it's worth it to take a few steps towards embracing your inner mixologist. The first step is to stock your bar with some basic tools. Once you've got those, it's time to learn how to make great cocktails at home. 
Make your own syrups  
Up until recently, I have been too lazy to make my own simple syrup. It is LITERALLY the easiest thing to make. I used to buy bottles of it that would go from clear to cloudy because it took me so long to use it up. I often use agave (half the amount of simple syrup that's called for) because it's easy and dissolves quickly. However, once I started making my own syrups, I'm on a roll! I recently made a mojito bar for a party with three options. The ginger syrup is spicy and delicious, the simple is just 1:1 (sugar:water) over heat, and the blackberry is something I still need to perfect. It was very thick.
These bottles and speed pour spouts are from Crew Home. They are perfect for making and storing your own syrups. And, maybe best of all, they are dishwasher safe. A huge thanks to Crew for sending me a set to try out! I can honestly say that if they hadn't sent them, I would have bought my own. I plan to buy the larger bottles soon for some at-home cocktail projects I have coming up.
Ginger Syrup
Ingredients: 
0.5 pound ginger root
170 grams raw sugar
170 grams white sugar
Instructions: 
Juice ginger root (a juicer works best). 
Strain juice through metal mesh strainer. 
Blend juice with sugars until smooth. Store refrigerated
Use fresh fruit and herbs
Squeezing my own fresh juices for cocktails instantly kicked the quality up tenfold. (I used to think that Rose's Lime Juice was actual juice.) Beyond the lack of added sugar, the freshness of recently picked fruits and herbs are the difference between a so-so drink and one that you will love. If you're cost-conscious, consider the farmer's market, buying things in season, or (depending on your climate and outdoor space) planting a garden. Another easy trick that boosts your drink is to use the oil from the citrus peel around the rim of the glass, since you smell a drink before you taste it. A whiff of fresh fruit sends a signal to your brain that this drink is going to be a good one!
Infuse your spirits 
If you've been to a cocktail bar and been intrigued by the fancy infused spirits, you can do this too! It's really easy and you can make small amounts, just in case you don't get it right the first time. I recommend buying a base spirit that you like that is fairly inexpensive. Then, start with adding simple flavors you know you would like. I love lavender gimlets, so infusing some gin with lavender was a no-brainer. I also love tea and spruce/pine flavors in cocktails, so I made some gin up with some spruce tip teabags. It only takes 30-40 minutes of soaking before you strain and remove the ingredients from the liquid. I used 500mL of gin and six teabags for the spruce gin and 325mL of gin and a quarter cup of dried, food-grade flowers for the lavender gin.
 Another plus for the Crew Bottles: The bottoms screw off so you can fill them easily and add or subtract things from the bottle without spilling. The pour spouts are also great for making you feel like a real bartender in your own kitchen. I really love them!
Learn new techniques
If you're curious about a term you see on a menu, you might ask the bartender, or you can always check out YouTube. While there are varying levels of quality, finding a few bartenders that you like is a good place to start. I really like watching the videos from Truffles on the Rocks and Beautiful Booze. I really love this video about making clarified milk punch. It actually makes it look possible to do!
Recreate drinks you've had out
Have you ever had a drink that you couldn't stop thinking about? I have! I always take photos of menus, mostly for Instagram, but I also reference them if I feel like trying to make a drink later on. It is a bit of trial and error, but sometimes I get it right. I had the drink above, the Rhythm and Blues-berry at The Monarch (which made my recent post) and figured it out. Let me know if you try out the recipe below!
Rhythm and Blues-berry
Ingredients: 
2 oz tequila (blanco)
1/4 cup blistered blueberries
1/2 cup agave or honey 
2 oz ginger beer 
1/2 oz fresh lemon juice
1 tsp cinnamon 
Instructions: 
Blister blueberries: add 1/3 cup of honey and blueberries to a pan on a high burner. Stir constantly until blueberries start to burst (blister). Take off heat and let cool slightly. 
Add all ingredients to a Boston Shaker with ice, shake, strain and serve in a Collins glass with ice
Pro tip: many bartenders are happy to give you pointers, ideas, and sometimes even recipes. Just don't bug them when they're swamped. I also suggest asking curious questions, like "how did you get the texture this way?" versus "can I have the recipe?" Bartenders work hard at their craft and some like to keep some mystery.
Try new recipes
There are hundreds of cocktail books in print. Many of them say the same thing, or are so complex you can hardly read them. Some of them are just right. I enjoy good instructions, delicious drinks, and quality photographs. A few of my favorites are: Cocktail Codex (by Death & Co.), Savory Cocktails, 3-Ingredient Cocktails, and Drinking Like Ladies (which includes recipes by female bartenders and histories of remarkable women).
And there you have it! Whether you're making yourself a drink after a long day or you're entertaining friends on the weekend, a little extra effort goes a long way. Cheers!
About the Author: 
Jenn Beard is the founder of Cocktails Away —a collection of adventures in pursuit of a great drink, a quality spirit, a unique ingredient, and the places they come from.  Check out her blog for mouthwatering recipes and insider tips on DIY bartending and cocktail culture.